So, as you know, on Saturday 19 May we were right there with the rest of the world – consumed by all the royal wedding hype. To be fair, we still are! It was as lovely as we could have hoped it would be. We spent the morning and afternoon taking it in in style at the KFM 94.5 Studios. These are our top five moments from the viewing.
1. Arriving to The Royal Guard and feeling like we caught summer in London
What's a few thousand kilometres between celebrations?!
https://www.instagram.com/p/Bi9HzWrl3wn/?taken-by=emiliegambade
2. Delicious treats and bubbles
In addition to that, the décor by Something Different was exquisite.
3. Literally every look exchanged between Harry and Meghan
It's possible that somebody was cutting an onion on the day because damp eyes were such a real thing!
4. Our Fashion Director, Tarryn Oppel, shared style insights
After chatting to E! Entertainment, Tarryn took to the stage and chatted to KFM 9.45 Breakfast Show hosts Sherlin Barends and Sibongile Mafu about the ins and outs of what to expect from the bride's dress, and royal wedding etiquette.
5. This. Was. Everything.
Karen Gibson and The Kingdom Choir performing Ben E King's 'Stand by Me' was a lot. Everyone in the room was either applauding or crying happy tears at this moment.
What an absolutely magical experience and a reminder that we should all love abundantly. Here's to the Duke and Duchess of Sussex having a lifetime filled with lingering, loving looks and smiles exchanged like a secret language that only they can truly understand.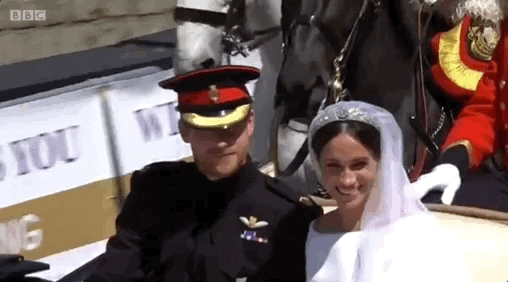 Read more Royal Wedding